PETITFEE Placenta Hydro Gel Mask Pack
Placenta effectively supplies essential nutrients to your skin.
Pack : 5 sheets
Description
The story of Hydro Gel Pack
Hydrogel is water in the form of jelly which gives skin exceptional hydration. This Hydro Gel Mask is excellent for absorption of rich moisture and nutrients compared with wheet pacts. The enriched essence in the ECO water-soluble pack gets absorbed into skin and will become thinner as it is absorbed.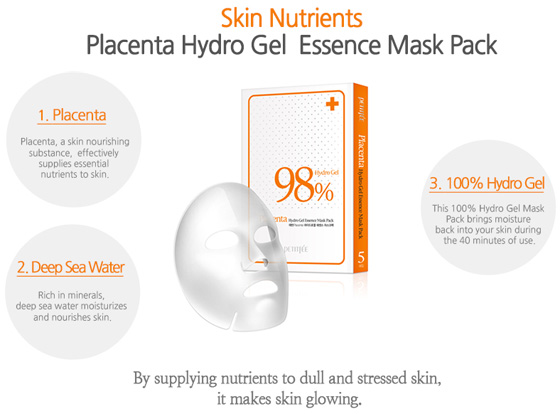 Main Ingredients
Placental Protein, Sea Water, Caffeoyl Tripeptide-1, Pearl Powder, Acacia Senegal Flower/Stem Extract
How to use
Apply the skin with toner after cleansing
Remove the mask after opening pouch and spread the folded mask
Remove the white film and attach closely on skin
Remove the clear film and apply gently around eyes and mouth
After application, gently remove the mask after 30~40minutes
It can be used when going about your daily routine at home.
Pat face gently for essence remaining on skin.
*Tip : Wear 30~40 minutes for normal skin, for over 40 minutes for skin in poor condition